The Danger Zones and Stepping Stones tool is based on an extensive three phase research project exploring young people's experiences in Temporary Living Arrangements. Throughout our research, young people reported good and bad experiences across all types of arrangements. We found that decisions about the suitability of young people's temporary living arrangements are all too often being based on assumptions about the 'type' of accommodation, when harmful living arrangements exist within all categories of accommodation.
No Temporary Living Arrangement should be assumed safe without further exploration. Our Danger Zones and Stepping Stones research informed the development of our assessment tool which supports providers to base their decisions on a more nuanced understanding of individual circumstances, helping to keep young people safe. Our tool assesses the situation rather than the type of accommodation.
21
point-valued questionnaire that assess Temporary Living Arrangements, helping protect young people from harm and support them into stable accommodation.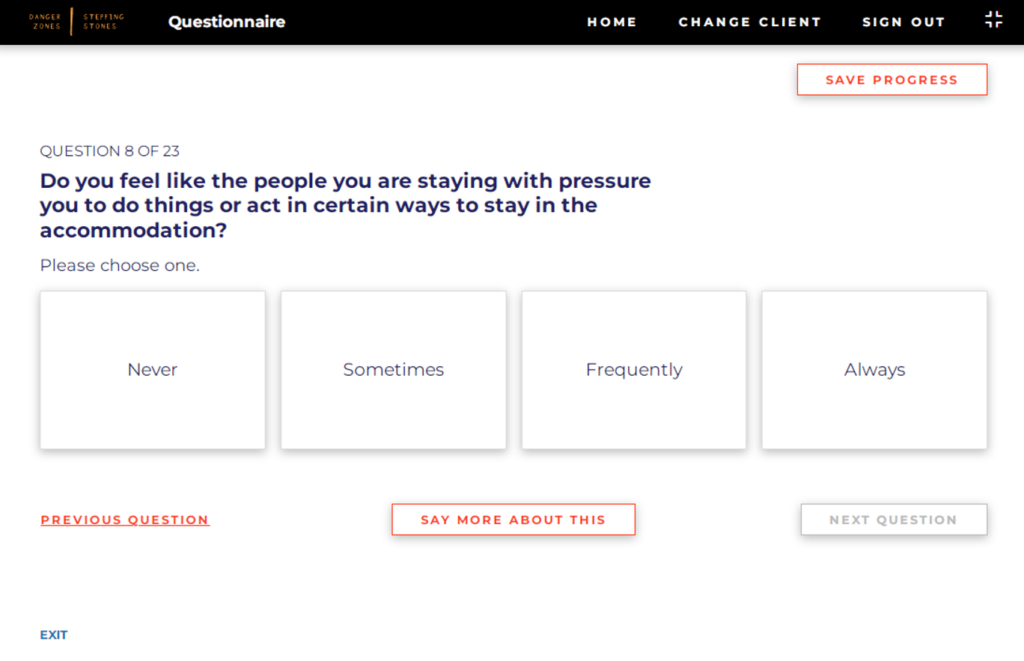 Using the Danger Zones and Stepping Stones assessment tool, we aim to:
Provide homelessness professionals with a standard approach for assessing the nature of young people's Temporary Living Arrangements before making support-related decisions
Move away from reliance on subjective assumptions based on accommodation type, or ambiguous terms such as 'sofa surfing' or 'staying with friends'
Support services to more effectively prioritise cases so that young people staying in unsuitable environments, or those who are most at risk of harm, can be supported first
Help protect young people who have been shown to be at heightened risk during housing instability
Enable more effective assessment of move-on accommodation and ensure a better understanding of the ways in which services are helping young people to progress away from homelessness.
The matrix
Our assessment tool measures the level of risk of harm to the young person, as well as how much support they have to move to more suitable accommodation. Using scores in both areas, the tool categorises Temporary Living Arrangements on the Danger Zones and Stepping Stones matrix. This categorisation supports informed decision-making about how to best support the young person.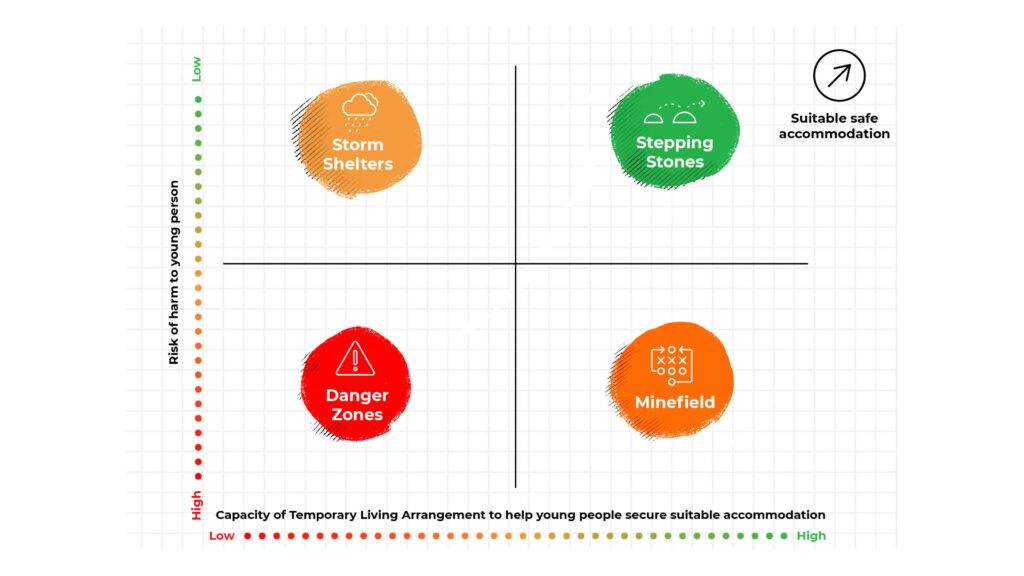 Our research
Our Danger Zones and Stepping Stones assessment tool was developed through an extensive three-phase research project over five years. We believe that within the homelessness sector, we need to get better at assessing Temporary Living Arrangements so that we can protect young people from harm and move them towards safer, more stable environments. Our research provides professionals with the tools to help young people to step out of the 'danger zones' and into places of safety.